Artist Reception for Marian Vavra
October 12, 2019 @ 9:00 AM

-

11:00 AM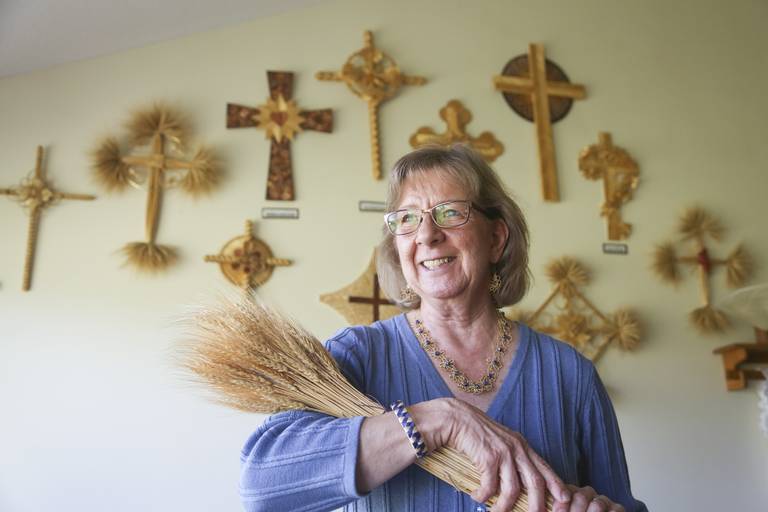 Marian Vavra, Rose Hill, Kan., is one of twenty wheat weavers in Kansas. Her designs are intricate and elegant, yet crafted out of simple wheat. She creates crosses, jewelry, ornaments, and baskets.
Her straw art will be on display at the Lee Dam Center for Fine Art, Marysville, throughout the month of October. The exhibition opens with a reception to meet the artist Saturday, October 12, from 9 a.m. until 11 a.m.; a complimentary breakfast will be served. Vavra will also demonstrate her technique during the reception.
Vavra has been plaiting, spinning, and gluing wheat into elaborate pieces of art since she bought a kit in the 1980s at a craft store. Over the years she has taught herself the folk art that dates back to Europe in the 1500s. While Vavra does a variety of projects with wheat, she specializes in sacred crosses. She feels it has been difficult for her to find the right words to talk about her Christian faith. Now, she is able to express her spiritual thoughts through weaving wheat into the form of crosses. Every cross in Vavra's collection has a story; she compiled the stories into a book "Celebrating the Cross."  Some of her crosses are used in church sanctuaries.
The art center is open Thursdays from 4-6 p.m.; Saturdays from 10-4 p.m.; Sundays from 1-4 p.m.
The exhibition closes Sunday, October 27.