Black squirrels, Pony Express horses and the Easter Bunny will be part of Museum Day on Saturday, April 2, as participating museums in Marshall County offer free admission and several activities.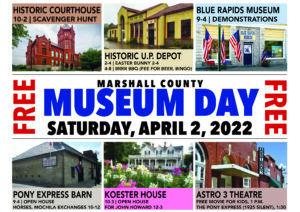 Participating museums include the Marshall County Historic Courthouse, Historic Union Pacific Depot, Koester House Museum & Gardens, and Pony Express Barn & Museum — all in Marysville — as well as the Blue Rapids Museum.
Marysville's Black Squirrel Committee will sponsor the showing of a free family movie at 1 p.m. at the Astro 3 Theatre, 820 Center St. The movie is part of the year-long activities marking the 50th anniversary of Marysville becoming the Black Squirrel City. In 1972, Marysville's City Council passed an ordinance to protect and celebrate its black squirrel population.
The Pony Express Barn & Museum also is presenting a free movie in the afternoon at Astro 3. The 1925 silent film, The Pony Express, will be shown following a short introduction at 1:30 p.m. Popcorn and refreshments will be available for a donation to the new Friends of the Pony Express Barn & Museum organization.
In addition, members of the Pony Express Association will be on hand at the barn, located at 106 S. 8th St., from 10 a.m. to noon with their horses to demonstrate mochila exchanges and talk about Pony Express history and the annual re-rides.
The museum will be open from 9 a.m. to 4 p.m.
The Marshall County Historic Courthouse, 1207 Broadway, will be open from 10 a.m. to 2 p.m. and hosting a scavenger hunt/museum bingo throughout the building. Families will be able to find answers to questions at various locations in the courthouse. The prize will be a punch card to the Marysville Aquatic Center for family and friends to enjoy a day at the pool. If multiple entries have the most correct answers, a random drawing will determine the winning entry.
The courthouse also will be showcasing a change to the wedding dress display and opening a new exhibit on local restaurants. Dresses and suits that have not been on display recently will be shown in the wedding attire exhibit. Eateries, Beaneries and Blue-Plate Specials is the name of the new exhibit that will include photos, artifacts and stories from Marshall County restaurants over the years.
The Historic Union Pacific Depot, 400 Hedrix St., will be hosting photos with the Easter bunny from 2 to 4 p.m. Those who attend also can make a frame for the photo as a craft project and receive an Easter treat.
The depot's BrrBBQ, Brrr Beer, Brrr Bingo event will take place from 4 to 8 p.m. that evening. Bingo and beer tickets will be sold, and food will be available for a free-will offering. There will be more than 50 bingo prizes to choose from, including $25 gift cards and $25 gas cards.
The Koester House Museum & Gardens, 919 Broadway, will be open from 10 a.m. to 3 p.m. with an open house from noon to 3 p.m. featuring long-time former Koester House Museum curator John Howard. Chocolate cake made from Hyacinth Koester's recipe will be served, and Howard will demonstrate how the Magic Lantern works to show slides.
The Blue Rapids Museum, 36 Public Square in Blue Rapids, will be open from 9 a.m. to 4 p.m. with various stations set up for demonstrations and activities. Those stations include activities for kids such as sewing, genealogy, dulcimer lessons and more. Stations also are expected to include cross stitch and embroidery, marbles, a checker contest, biscuit-making, and some surprises.
For more information, go to www.VisitMarysvilleKS.org.