An All-American Fourth of July
July 4, 2019 @ 4:30 PM

-

10:30 PM

Free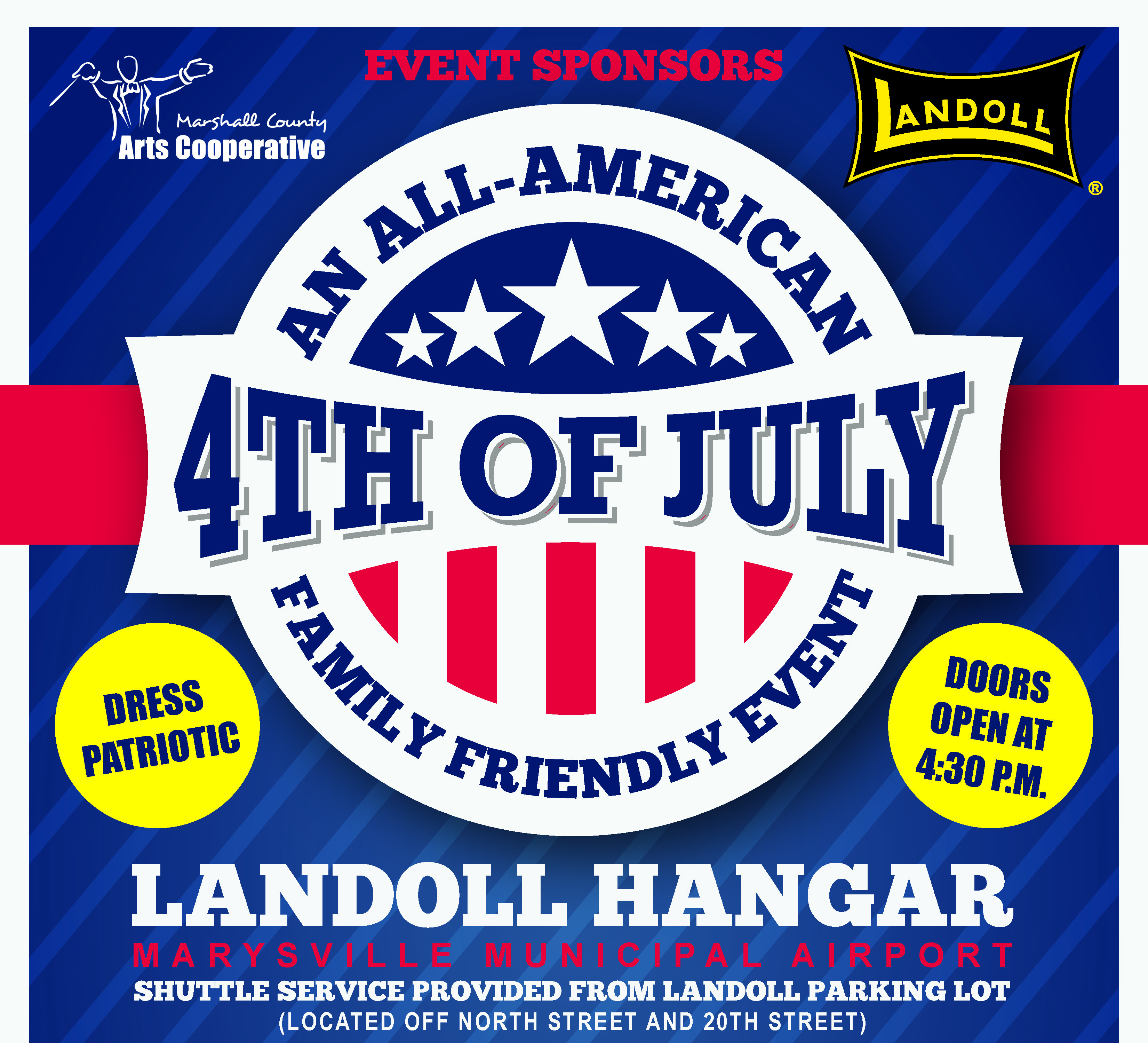 "An All-American 4th of July" celebration is planned for the Independence Day holiday.  The family-friendly event will take place at the Landoll hangar, Marysville Municipal Airport.  Admission is by freewill donation.
Family games and craft stations will start at 4:30 p.m.  Outdoor lawn games like cornhole, ladder golf, spikeball, and four square will be available for people to play.  There will be patriotic crafts for children to make too.
Chris Grauer is providing helicopter rides for $45 per person.  Two people may ride the helicopter at once.  
A pie baking contest will start at 6 p.m.  Prizes will be awarded for the best pies.  Those interested must have their pies to the hangar by 6 p.m.  Once the pies are judged, individual slices of pie will be sold for $1.
The Landoll Corporation is providing a free meal; serving starts at 6 p.m.  The main course includes all-beef hot dogs, Made 2 Grill brats, and chips.  Citizens State Bank is serving three different flavors of Call Hall ice cream.
At 7:15 p.m. the colors will be presented aerially by the Kansas State University Parachute Club during a jump (weather permitting).  After the flags are displayed, there will be a salute to veterans and service men and women followed by a tribute to first responders.
The musical group Four By Four will perform at 7:30 p.m.  Their concert celebrates the legendary music of the Beach Boys, the Beatles, the Bee Gees, and Motown.  The singers perform classic pop songs in fully staged and choreographed production numbers.
The evening culminates with a fireworks display designed by Sterling Clark, Marysville.
Plenty of parking is available at the Landoll Corporation off of North Street and 20th Street.  Shuttles will be available to bring people to and from the parking lot and event.  Handicapped parking is available close to the event location.
A cash bar will be available, and Ma and Pa's Kettle Corn will be a vendor at the event.
The event is sponsored by the Marshall County Arts Cooperative and Landoll Corporation.