44th Annual Mother's Day Market
May 10, 2019

-

May 12, 2019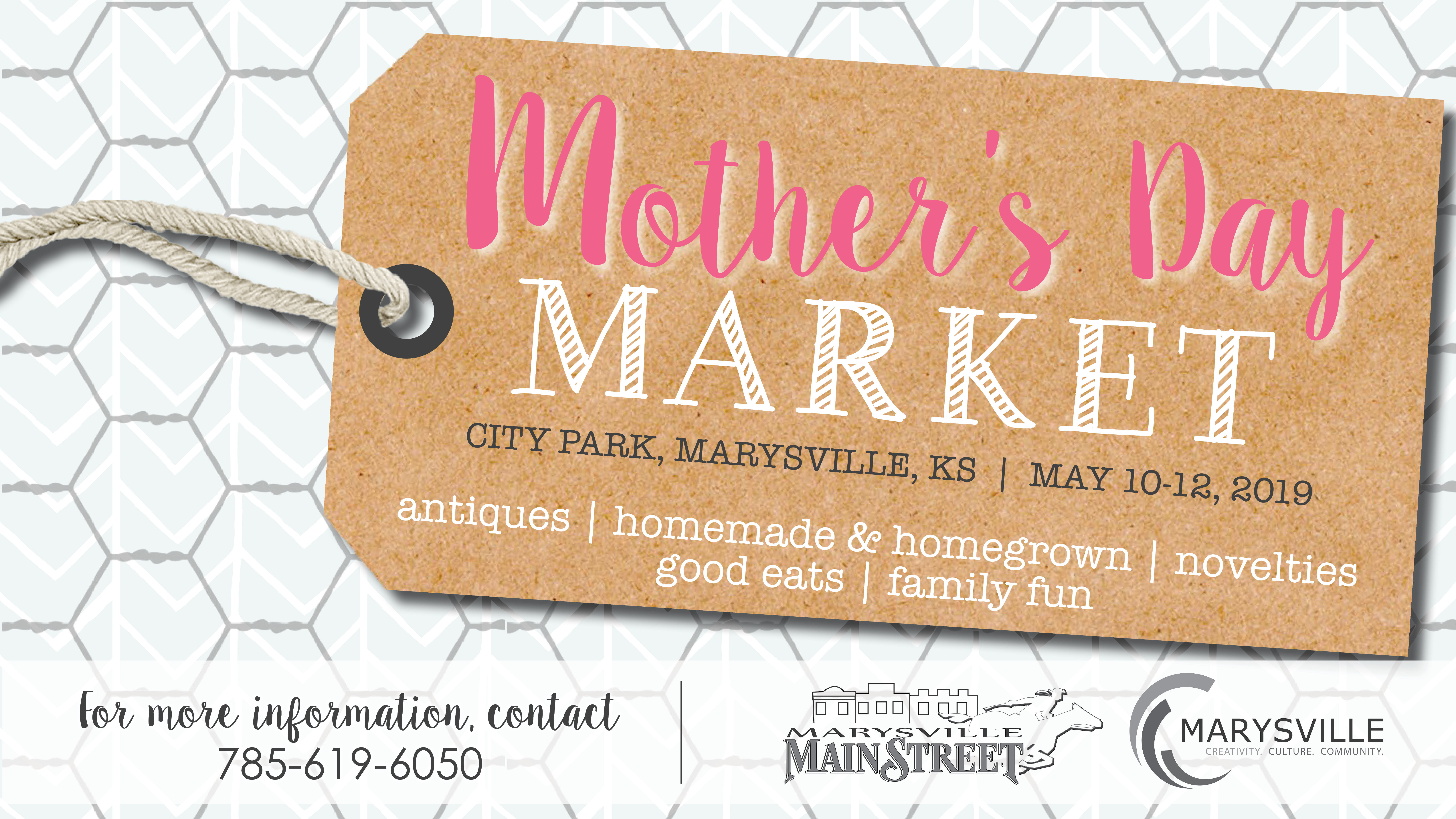 Spend Mother's Day weekend in Marysville at the 44th Annual Mother's Day Market Event. The Market features nearly 120 vendors, including antiques and novelties, homemade and craft items, homegrown items and a wide variety of food vendors.
The Market is held Friday-Sunday, May 10-12, 2019 in Marysville's City Park at 10th & Walnut. The event runs from 12:00 pm to 6:00 pm on Friday, and 9:00 am to 6:00 pm on Saturday and 9:00 am to 4:00 pm on Sunday. While visitors shop for unique antiques and homemade gifts, they can enjoy delicious food, including barbeque, burgers and hot dogs, funnel cakes, homemade ice cream, cotton candy, smoothies, and many other food items.
Kids Day Out at the Market will be from noon to 3 p.m. May 11 and will include crafts and activities. The band Trout Fishing in America will perform at 11:30 a.m. Pony rides and face painting will be offered.
One of new events is The Grove, "pop-up" shopping that will feature handmade  or boutique-quality goods, all under one canopy tent. The event will be only on May 11, from 9 a.m. to 6 p.m. in the former Simmons Auditorium area at the park. 
Items include home décor, signs, bold handmade leather earrings, beaded jewelry, hand-sewn hair bows, fresh homemade baked goods, boutique apparel, and handcrafted and organic bath products.
Event sponsor is Marysville Main Street in conjunction with Marysville Convention & Tourism. The event is a benefit for the Koester House Museum & Gardens.
On May 12, another new event will be in the tent area. Marcy Holthaus of MADE: Décor and Classes, Kansas City, will conduct make-and-take sign painting classes in the tent area at 1 p.m. Holthaus is a native of Marysville.
The Mother's Day Marysville Junior-Senior High School Art show will be from 9 a.m. to 4 p.m. May 11 and 12 in the junior high gym.
The Mother's Day Dash Family Fun Run and 5K will be at 9 a.m. May 11 at the Blue River Rail Trail.
A chicken barbecue meal will be served on Sunday from 11:00 am to 2:00 pm at the northwest corner of the park (7th & Walnut Street). The cost is $10 and includes a half chicken barbecued to perfection by Van Laningham's Barbecue Aces of Beatrice, Neb., along with baked potato, coleslaw and a roll. Dine-in or carryout is available. All proceeds from the event benefit the Koester House Museum & Gardens. Pre-orders can be placed with Marysville Main Street at (785) 619-6050.